Clairin Casimir 2018 Rhum pur Jus de Canne Haiti 54,3%
Der Zuckerror-Schnaps Clairin Casimir aus Haiti stammt von der Nordseite des Landes, an der südlichen Gabelung im Dorf Baradères. Man nennt die Gegend auch die letzte Grenze und legendäre Region von Kaffee, Kakao und Clairin. Baradères ist ein kleines Fischerdorf, ziemlich isoliert, aber mit einer ziemlich großen Bevölkerung und vielen kleinen Brennereien. Faubert Casimir stellt seinen Clairin aus Hawaii Rouge und Hawaii Blanc Zuckerrohr her, einem Verwandten des O'Tahiti-Rohrs aus Polynesien. Das Zuckerrohr wird gepresst und der reine Saft durchläuft eine sehr lange wilde Gärung in Holzbottichen aus einheimischen Kastanienbäumen. Im Stil von Baradères fügt Faubert seiner fermentierenden Flüssigkeit lokale Zitrusfrüchte hinzu, um den pH-Wert zu kontrollieren und die Fermentation zu verlängern, sowie Kräuter wie Zitronengras, lokal verwendet, um unerwünschte Schädlinge fernzuhalten. Clairin Casimir zeigt sehr intensive Aromen, von kandierten Früchten und Kräutern bis hin zu berauschenden Trüffeln. Clairin Casimir wird durch das Gemälde des berühmten in Port-au-Prince lebenden Künstlers Simeon Michel vertreten.
Inhalt: 0.7 Liter (57,00 €* / 1 Liter)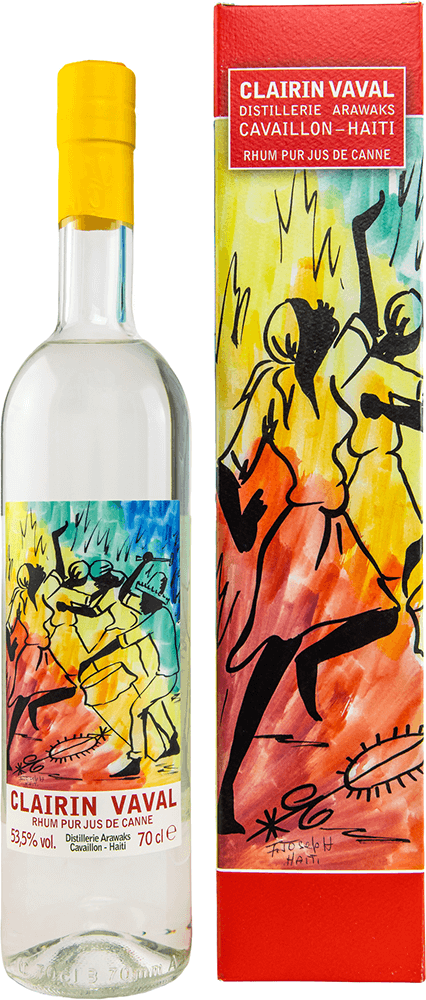 Clairin Vaval Rhum pur Jus de Canne Haiti 53,5%
Sehr traditoniell betreibt Monsieur Fritz Vaval seine kleine Distillerie Arawaks auf Haiti, die seit 1947 im Besitz seiner Familie ist. Fritz besitzt 20 Hektar Land, das mit der Zuckerrohrsorte Madame Meuze bepflanzt ist, die natürlich angebaut wird, ohne den Einsatz von chemischen Düngemitteln oder Pestiziden. Dieser Rhum pur Jus de Canne Haiti Clairin Vaval wird aus reinem Zuckerrohrsaft hergestellt, der auf natürliche Weise mit wilden Hefen fermentiert und in einer kleinen Brennblase destilliert wird, die Fritz selbst hergestellt hat und die von der Dampfmaschine einer alten Lokomotive angetrieben wird. Clairin Vaval schmeckt nach seiner Region, mit Aromen von salziger Meeresluft, Strandsand und reichhaltigen Pflanzenstoffen.
Inhalt: 0.7 Liter (57,00 €* / 1 Liter)
Bristol Classic Rum 2004/2015 Barbancourt Haiti 43%
Bristol Spirit aus England bringt den Bristol Reserve Rum of Haiti 2004 an den Markt. Der Spezialist für feinsten Rum hat seine Adresse in Wickwar, der Grafschaft Gloucestershire. Die Rums werden immer in kleiner Stückzahl am Markt zur Verfügung gestellt. Bristol Spirits hat große Erfahrung mit Rum, dadurch ist immer eine hohe Qualität der Produkte zu erwarten. Dies liegt unter anderem an der gezielten Auswahl der Produkte sowie der Lagerung in unterschiedlichen Fässern über viele Jahre. Der Bristol Reserve Rum of Haiti 2004 hat seinen Ursprung wie der Name schon sagt auf in Haiti auf der karibischen Insel Hispaniola. Da es in Haiti nur eine Rum Brennerei gibt fällt die Wahl auf die Rhum Barbancourt nicht schwer. Nach der Destillation durfe dieser Rum eine Dekade lang in amerikanischen Weißeichenfässern reifen. Im Jahr 2014 wurde dieses Produkt durch Bristol abgefüllt.
Inhalt: 0.7 Liter (121,29 €* / 1 Liter)