Lazy Dodo Single Estate Rum 40%
Was für ein Name - Lazy Dodo - geheimnisvoller Vogel der Insel Mauritius, der bereits vor der Ankunft von Seefahrern im 18. Jahrhundert wegen seiner Flugjähigkeit ausgestorben war. Der Rum aus dem Indischen Ozean stammt aus Pamplemousses, einem Bezirk im Nordwesten der Insel. Der Rum wird mit großer Sorgfalt und langer Tradition von über 170 Jahren auf Mauritius produziert. Die drei Brüder Harel, Victor, Charles und Eugene, gründeten ihre Gesellschaft und über die Jahre hinweg wurde die Plantage eine der wichtigsten Zuckerrohrplantagen der Insel. Die Plantagen-Melasse fermentiert zwischen 24-48 Stunden auf natürliche Weise. Der Master Distiller verblendet den Lazy Dodo unter unterschiedlichen Jahrgängen zu einem großen Ganzen. Dabei lagen und reifen die Großteile davon bis zu 12 Jahre in diversen Fässen wie französischen Eichenfässern.
Inhalt: 0.7 Liter (52,71 €* / 1 Liter)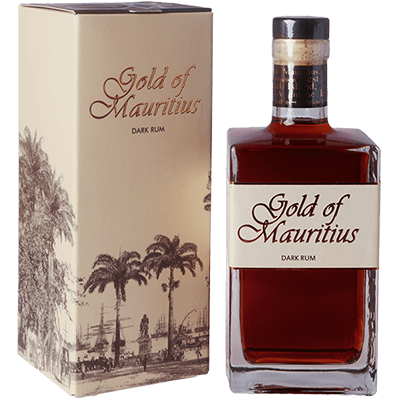 Gold of Mauritius Dark Rum 40%
Der Indische Ozean mit Mauritius scheint so weit entfernt von Europa zu sein, und doch sind die Produkte von der Insel so präsent in Deutschland. Eines dieser Edelprodukte ist der Gold of Mauritius, den Rum-Liebhaber einmal probiert haben sollten, aber nicht müssen! Es gibt ja so viele Rum Produkte im Handel, dass man den Wald vor lauter Bäumen manchmal nicht sieht. Dieses feine Zuckerrohr-Destillat besitzt einen einzigartigen und unvergleichlichen Stil der die Herzen der Rum-Genießer höher schlagen lässt. Frederic Bestel ist der Eigentümer der Marke, der die Qualitäten immer im Auge hat. Dunkel, elegant und mit Noten von feiner Schokolade sowie tropischen Früchten liegen wunderbar am Gaumen.
Inhalt: 0.7 Liter (52,71 €* / 1 Liter)