Jack Daniels Whisky Datenbank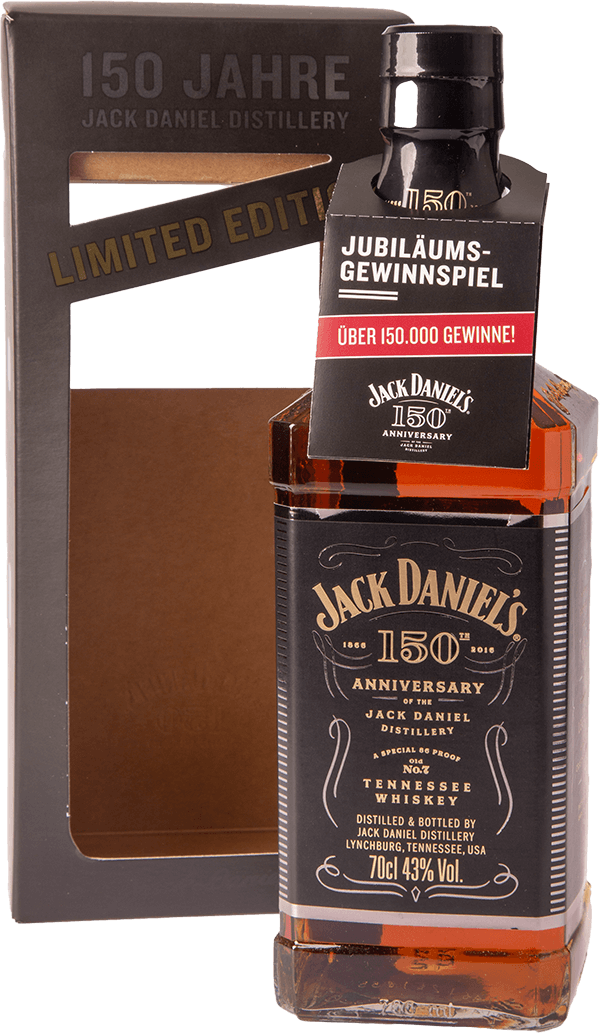 Jack Daniel´s 150th Anniversary of the Distillery
Diese Ausführung des Jack Daniel´s 150th Anniversary of the Distillery Tenneessee Whiskey 43% 0,7 Liter ist eine limitierte Auflage zu Ehren des 150-jährigen Bestehen der Brennerei aus Lynchburg. Die Whiskey Marke Jack Daniel´s ist heute der populärste und am meisten verkaufte amerikanische Whiskey in den ganzen USA. Ein Kultstatus den sich der Hersteller im Laufe der letzten Jahrzehnte redlich erarbeitet hat. Der Jack Daniels No.7 besticht durch seine würzige und gleichzeitig Noten in der Nase und setzt süße Akzente im Geschmack. Die Eiche kommt dabei sehr gut zum tragen. Er zeigt auch sanfte Noten von süßem Honig am Gaumen. Im Abgang hat er nochmals die Süße der Grundzutat Mais und gleichzeitig bringt er sehr würzigen Nuancen und hinterlässt am Ende einen lang anhaltenden Eindruck.
Inhalt: 0.7 Liter (78,43 €* / 1 Liter)
Jack Daniels Single Barrel Personal Collection Sweet Forward Whiskey 64,5%
Aus einer der berühmtesten amerikanischen Whiskey-Brennereien, Jack Daniels, stammt diese Einzelfass-Abfüllung. Sein Name ist Sweet Forward aus der Personal Collection mit einem besonders reichhaltigen und großzügigen Charakter. Die Noten werden beschrieben als Gewürzbrot und Pistazienkuchen und die Fülle von Fruchtkonfitüren, die sich in der Aromen- und Geschmackspalette wiederfinden. Wunderbar göttliche Düfte der Orangenblüte stellen die Verbindung zwischen Nase und Gaumen her.
Inhalt: 0.7 Liter (135,57 €* / 1 Liter)