Bruadar Whisky Likör 22%
Flascheninhalt:
0,7 Liter
Bruadar, im gaelischen "Traum", ist die schottische Variante des alten englischen Favoriten "Sloe Gin", ein mit Schlehen aromatisierter Gin. In Schottland wird als Basis natürlich Whisky herangezogen. Dieser Whisky-Likör wurde im Jahre 1997 entwickelt um der Nachfrage nach einer wirklichen Alternative zu den üblichen britischen Likören nachzukommen. Diese waren zu damaliger Zeit sehr ähnlich im Geschmack, vornehmlich als "After-Dinner-Likör" gedacht, schwer, alkoholreich und auch likörig "klebrig". Bruadar wird einzigartig durch die Basis von reinen Single Malt Whiskys durch die Zugabe von Honig und Schlehen nochmals verfeinert. Diese Zutaten verleihen dem Likör eine wundervolle natürliche Süsse, durch die auch der Charakter der Schlehen noch klar zu erkennen ist. Mit einem leichten Alkoholgehalt von 22 % ist der Bruadar leichter als andere Liköre auf Whisky Basis. Diese Leichtigkeit macht Bruadar zu einem perfekten Begleiter bei allen Freizeitvergnügen des Outdoor Lebens – ideal zu den traditionellen Country Vergnügen wie Jagd, Angeln, Reiten, natürlich auch Golf – oder einfach bei einem herrlichen Spaziergang in den Bergen, am Strand oder in der Heide. Tatsächlich schmeckt Bruadar überall an der frischen Luft einzigartig köstlich. Entdecken Sie Ihren ganz persönlichen "Bruadar Moment" !
Inhalt: 0.7 Liter (35,57 €* / 1 Liter)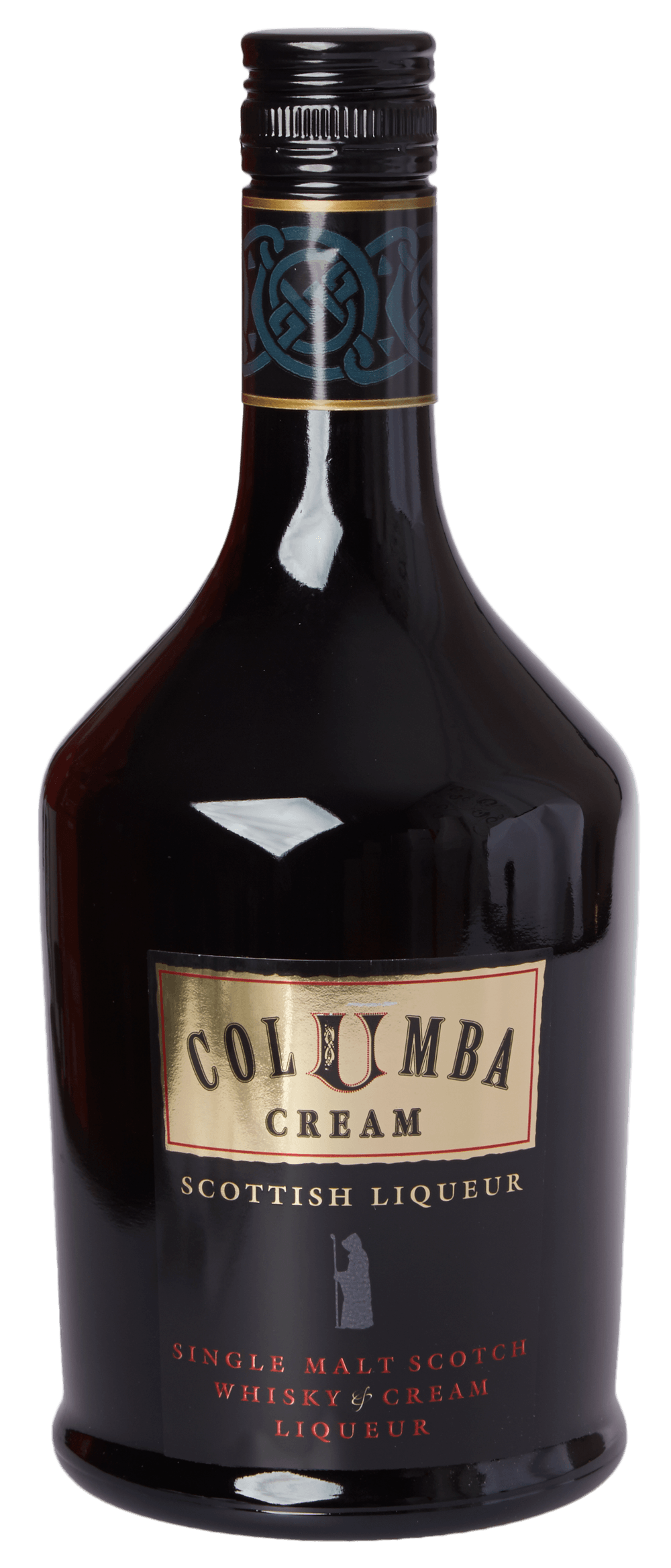 Columbia Cream Whisky Likör 17% 0,7L
Der Mönch St. Columba, ein Schüler St. Patricks, kam im Jahr 563 aus Irland auf die kleine schottische Insel Iona, nur wenige Meter getrennt von der Isle of Mull, und begann von dort aus die Christianisierung Schottlands. Nach diesem außergewöhnlichen Mann ist aussergewöhnliche außergewöhnlicher Whisky Cream Likör benannt. Heute wird Columba Cream immer noch nach dem originalen Rezept aus frischer schottischer Sahne, leckerem Single Malt Whisky und bestem schottischen Blütenhonig hergestellt. Es gibt keine künstlichen Süssmittel, Farb- und Konservierungsstoffe oder Geschmacksverstärker. Alles nur pur! All diese natürlichen Bestandteile verleihen dem Produkt seine fantastische sahnige Weichheit und seinen einzigartigen Geschmack. Die Premium Basis für den Columba Cream, bildet der Single Malt Whisky aus der Tullibardine Destillerie mit einer unvergleichlichen Aromenvielfalt. Ausschließlich natürlicher, reiner Blütenhonig von einem Imker aus der Region süsst den Columba Cream. Diese Süsse ist nicht aufdringlich und dabei geschmacklich einzigartig. Es wird außschließlich tagesfrische flüssige Sahne aus einem Familienbetrieb, der in Bridge of Allen, kaum 15 km entfernt von der Produktion liegt, verwendet. Die Kühe weiden dort im Schatten von Stirling Castle und dem Monument von William Wallace, dem großen schottischen Freiheitskämpfer ("Braveheart"). Dadurch wird der Cream Likör so unverwechselbar sahnig. Probieren Sie den Columba Cream, und sie werden merken, das all diese Bemühungen, diese einzigartigen Produktionsmethoden sich absolut lohnen um den "Cream of Creams" zu erzeugen. Das Ergebnis dieser Arbeit, ist der Columba Cream, der seit Juni 2005 auf dem Markt ist. Äußerlich wie inhaltlich präsentiert Columba Cream mit einem traditionell keltisch und luxuriösen Genuss. Columba Cream hat angenehm leichte 17% Alkohol. Lassen auch sie sich genussvoll überraschen und geschmacklich entführen.
Inhalt: 0.7 Liter (26,37 €* / 1 Liter)
18,46 €*

22,90 €*

(19.39% gespart)
Ledaig 17 Jahre 1997 C&S Dram Collection 50,9% 0,7L
Ledaig ist die kräftig rauchige Ausführung aus der Tobermory Brennerei. Er stammt von der schottischen Isle of Mull Insel. Eine intensive und torfirauchige Variante in kräftiger Abfüllung mit 50,9% Vol. Alkohol.. Sie wurde nach 17 Jahren abgefüllt und reifte über die Zeit in einem Ex-Bourbon Hogshead Eichenfass. Selten dass Single Cask Qualitäten einmal die Brennerei verlassen. Manchmal jedoch schafft es ein unabhängiger Anbieter, ein sogenanntes "Independant Bottler", tatsächlich einige Fässer für sich zu sichern. Und Brian Morrison, der frühere Besitzer der Islay Bowmore Distillery ist nicht irgendwer, der Mann hat vorzügliche Kontakte in die Whiskyindustrie und sichert sich zwischendurch einmalige Tröpfchen. Unter dem Label C&S Dram werden diese tolle Whisky-Produkte zu einem vernünftigen Preisen angeboten. Es handelt sich ideale Dram´s in kräftiger Faßstärke und als Einzelfass-Abfüllungen für einen tollen und sehr individuellen Genuss. Jede dieser Abfüllungen ist leider nicht reproduzierbar. Weitere Details: Destilliert: 01.10.1997 Abgefüllt: 1 23.03.2015 Faß-Nr.: 643078 Die Abfüllung ist limitiert auf 259 Flaschen !
Inhalt: 0.7 Liter (125,89 €* / 1 Liter)