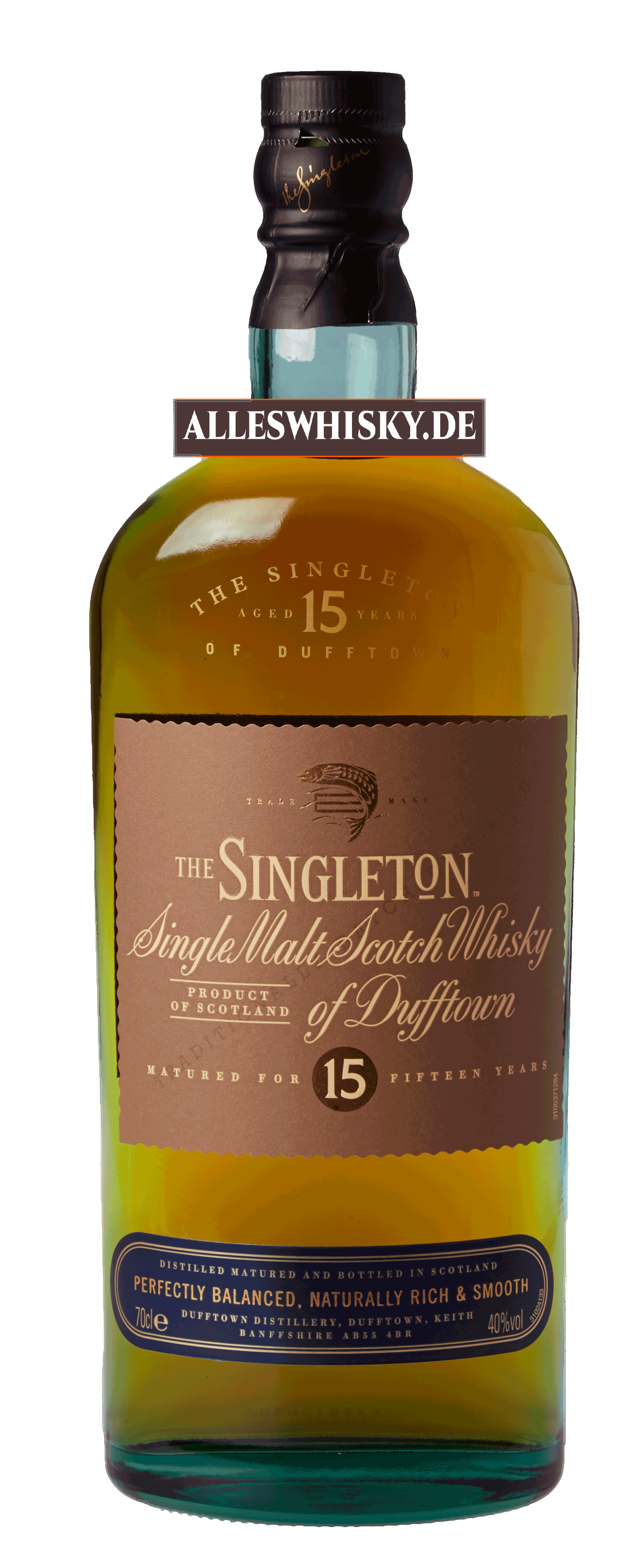 40,93 €*
Inhalt:
0.7 Liter
(58,47 €* / 1 Liter)
Sofort verfügbar, Lieferzeit 1-3 Tage
Produktnummer:
WHSC-SINGDU-0015-070400
Tasting Notes - Geschmacksnotizen
Farbe: Tief bernsteinfarben.
Aroma: Etwas würzig und trocknend, übergreifend, Paradiesäpfel und ein Hauch von Honigwabe gehen in fruchtigere Aromen über, reife Herbstfrüchte in Kombination mit der Schärfe roter Beeren, mit leichter Süße goldenen Sirups, beruhigend und wohl ausgewogen, mit etwas Wasser tritt anfänglich eine weichere Note stärker hervor, mit Spuren von Edelkastanie, gefolgt von einem Hauch von Rauch oder verkohltem Holz.
Geschmack: Mittel, bedeckt, wohltuend, ohne Wasser ist der Geschmack anfänglich süß und zum Ende hin trocken, wärmend, leicht und weich, mit einem Hang zum Zarten, frische Früchte mit würzigen Kopfnoten.
Abgang: Trocken, Birnen und Vollkornkekse, dann fein würzig mit Noten von Zimt.
Hausstil von Singleton of Dufftown: Reichhaltig und rund.
Produktinformationen "Singleton of Dufftown 15 Jahre 40% 0,7L"
Der Singleton of Dufftown 15 Jahre ist ein eleganter Malt Whisky mit einer süßen Fruchtigkeit und einer perfekten Ausgewogenheit.
| | |
| --- | --- |
| Abfüllung: | Herstellerabfüllung(en) |
| Alkoholgehalt: | 40 % |
| Alter: | 15 Jahre |
| Flaschengröße(n): | 0,7 Liter |
| Gattung: | Single Malt Whisky |
| Land / Herkunft: | Schottland |
| Marke / Hersteller: | Singleton of Dufftown |
| Region(en): | Speyside |
| Spirituosenart: | Whisky |
Hersteller Informationen
Lebensmittelunternehmer: Dufftown Distillery
Adresse: Dufftown Keith Banffshire AB55 4BR/GB
Herkunft: Schottland
Produktdarstellungen und Bilder können abweichen je nach Batch, Abfüllungen und Herstellungsjahr