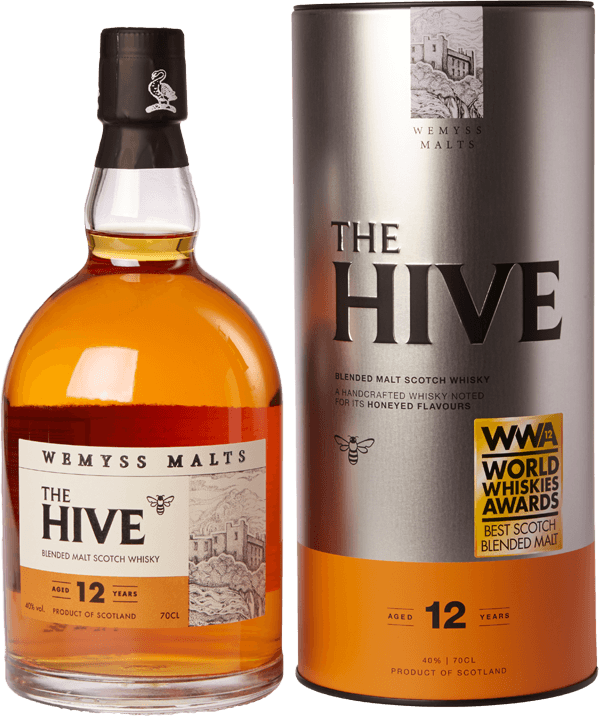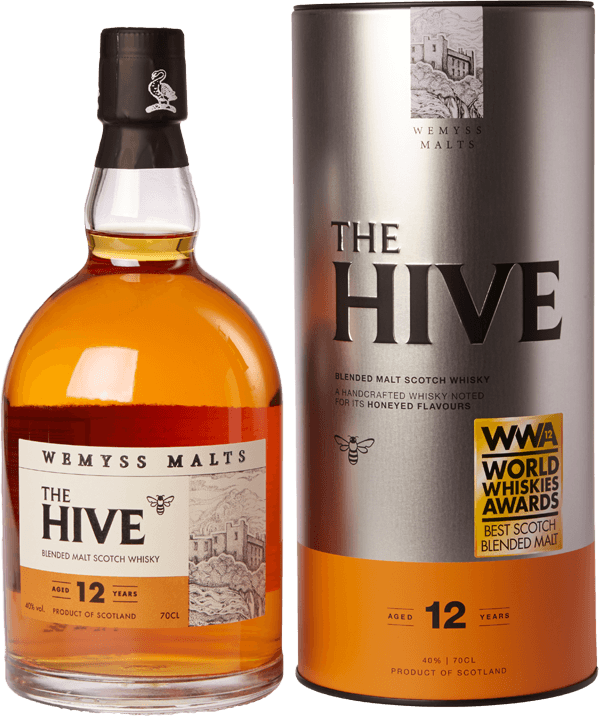 40,93 €*
Inhalt:
0.7 Liter
(58,47 €* / 1 Liter)
Produktnummer:
WHSC-WEMYSS-TH12-070400
Tasting Notes - Geschmacksnotizen
Aroma: Ausgeprägte Honigsüße mit einer Prise Gewürze, blühender Klee, frischer Wildblumenhonig, Toffee, Buttercreme, im Hintergrund Bourbon-Vanille.
Fasstyp: Frische und Re-Fill Sherry Fässer.
Produktinformationen "Wemyss The Hive 12 Jahre 40% 0,7L"
Der Wemyss 12 Jahre The Hive ist ein hochwertiger Blended Malt Whisky. The Hive heißt in der Übersetzung Bienenstock. Hauptbestandteil ist ein Speysider aus frischen und Re-Fill Sherry Fässern. Die Serie des Independenz Bottlers Wemyss Malts beinhaltet drei Blended Malts.
Es müssen nicht immer die großen Marken sein.
In der Range ist eine Komposition aus mehreren Malt Whiskys mit je einer Hauptkomponente und jeder repräsentiert typischerweise eine der schottischen Whiskyregionen. So wie auch bisher bei Wemyss wurden die drei Blended Malts in Zusammenarbeit mit dem Whisky Experten Charles MacLean kreiert, der verantwortlich für Fassauswahl und Rezeptur zeichnet. Das Ergebnis sind drei ausgewogen elegante Whiskies mit modernem, hochwertigen Auftritt.
| | |
| --- | --- |
| Abfüller: | Wemyss Vintage Malts |
| Abfüllung: | Independant Bottler |
| Alkoholgehalt: | 40 % |
| Alter: | 12 Jahre |
| Flaschengröße(n): | 0,7 Liter |
| Gattung: | Blended Malt Whisky |
| Land / Herkunft: | Schottland |
| Marke / Hersteller: | Wemyss |
| Spirituosenart: | Whisky |
Hersteller Informationen
Lebensmittelunternehmer: Wemyss Malts
Anschrift: 4 Melville Crescent, Edinburgh EH3 7JA
Herkunft: Schottland
Produktdarstellungen und Bilder können abweichen je nach Batch, Abfüllungen und Herstellungsjahr
---
Connemara und Wemyss Hive 12 years
Besser geht's nicht...?
Volltreffer! Zuerst hat mich die tolle Verpackung und Beschreibung angemacht
Gut dass ich diesen Wemyss Malt mit Namen Hive bei meiner Bestellung noch in den Warenkorb gelegt hatte. Der Shop von alleswhisky ist cool. Eigentlich wollte ich gar nicht und dann hat mich diese super Aufmachung, Verpackung und vor allem die intelligente und einfache Suche im Menü echt angemacht. Hatte bisher noch nie einen Blended Malt gekauft gehabt. Und das war eine super Kauf. Rein in den Warenkorb und schon bei mir so schnell ging das. Wemyss kannte ich bisher nicht und muss zugeben es müssen nicht immer die großen Marken sein.