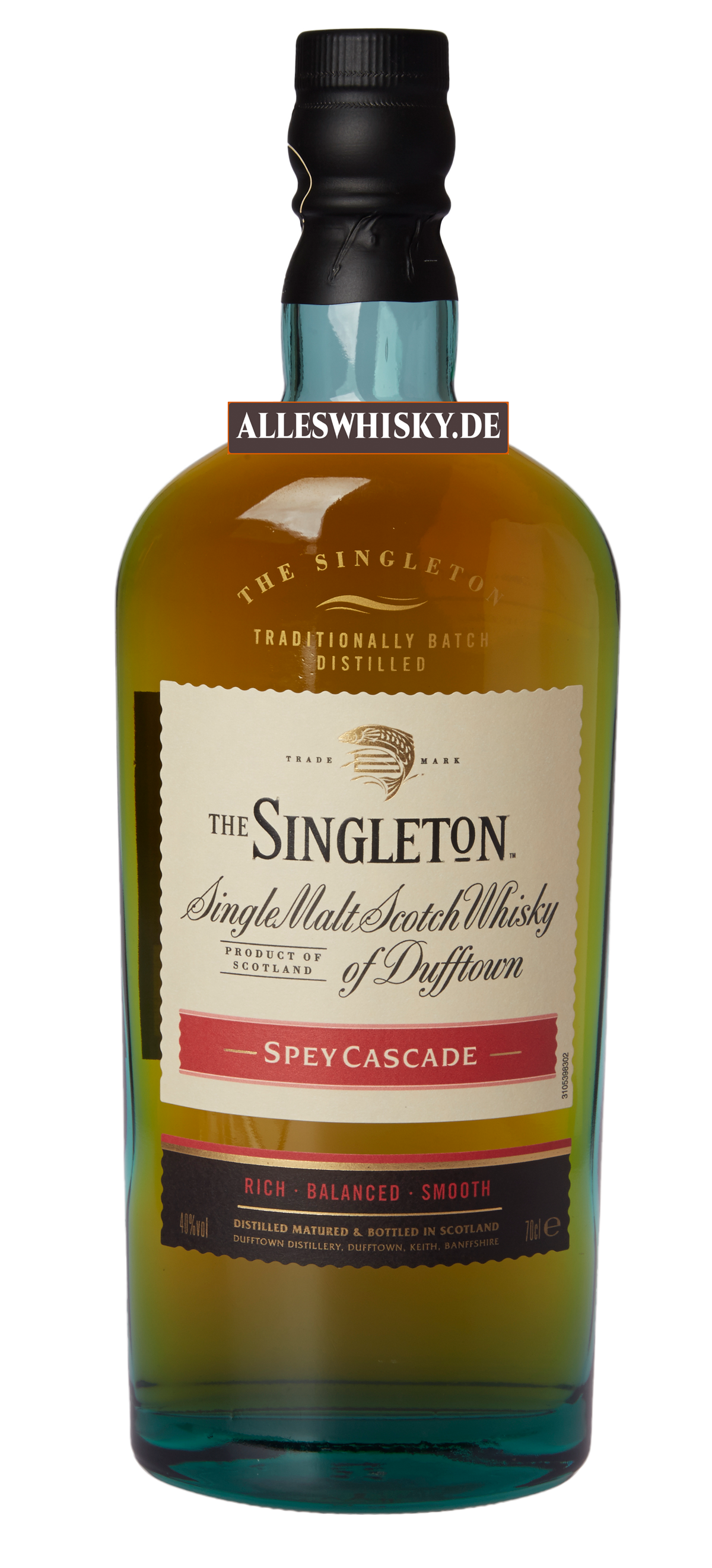 24,52 €*
Inhalt:
0.7 Liter
(35,03 €* / 1 Liter)
Produktnummer:
WHSC-SINGSC-0000-070400
Tasting Notes - Geschmacksnotizen
Aroma: Sanft und frisch mit einer fruchtigen Note von gebackenen Äpfeln und hausgemachter Marmelade.
Geschmack: Leicht süß mit der Fruchtigkeit von eingekochten Äpfeln, Noten von gerösteten Nüssen und erdigen Nuancen. Wasser reduziert die Süße und trocknet leicht den Geschmack.
Abgang: Kurz und ölig mit einer Note Lakritz. Leicht fruchtig im Nachgeschmack, mit Kirsche und dunkler Schokolade und später mit einer Kräuter- und Teenote.
Fasstyp: Mischung aus Amerikanischer und Europäischer Eiche.
Hausstil von Singleton of Dufftown: Reichhaltig und rund.
Produktinformationen "Singleton of Dufftown Spey Cascade 40% 0,7L"
Der Spey Cascade aus dem Hause Singleton of Dufftown ist eine recht neue Abfüllung. Der Name Spey Cascade und das Design der Flasche sind inspiriert von der farbenprächtigen und traditionellen Welt des Fliegenfischens und beziehen sich auf die Heimat des Whiskys, am Ufer des Flusses Spey. The Singleton of Dufftown Spey Cascade besticht nicht nur durch sein modernes Design sondern vor allem durch seinen Geschmack. Seine reichhaltigen, süßen und fruchtigen Aromen mit Noten von gebackenen Äpfeln und gerösteten Nüssen, die er durch sorgfältig ausgewählte Eichenfässer erhält, machen den neuen Single Malt attraktiv. The Singleton Master Blender Dr. Matthew Crow selektiert jedes Fass eigenhändig, um einen perfekt ausbalancierten, geschmacksintensiven und dennoch leicht zugänglichen Whisky zu kreieren.
| | |
| --- | --- |
| Abfüllung: | Herstellerabfüllung(en) |
| Alkoholgehalt: | 40 % |
| Alter: | Ohne Altersangabe |
| Flaschengröße(n): | 0,7 Liter |
| Gattung: | Single Malt Whisky |
| Land / Herkunft: | Schottland |
| Marke / Hersteller: | Singleton of Dufftown |
| Region(en): | Speyside |
| Spirituosenart: | Whisky |
Hersteller Informationen
Lebensmittelunternehmer: Dufftown Distillery
Adresse: Dufftown Keith Banffshire AB55 4BR/GB
Herkunft: Schottland
Produktdarstellungen und Bilder können abweichen je nach Batch, Abfüllungen und Herstellungsjahr