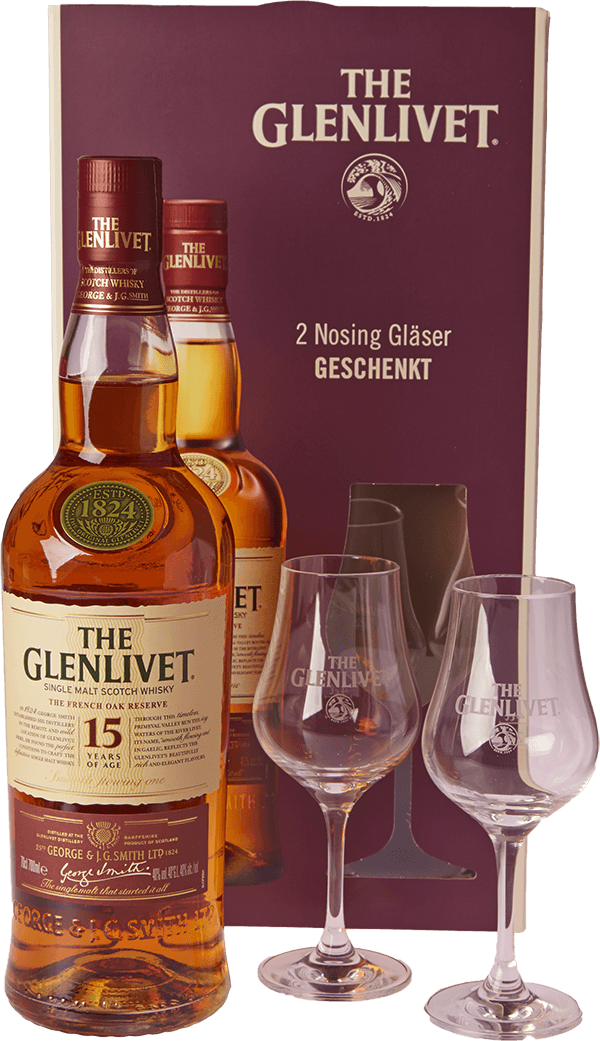 48,11 €*
Inhalt:
0.7 Liter
(68,73 €* / 1 Liter)
Produktnummer:
WHSC-GLENLI-15WHGI-070400
Tasting Notes - Geschmacksnotizen
DEAL OF THE WEEK - GESCHENKSET
Farbe: Tiefes und intensives Gold.
Aroma: Cremig und reichhaltig mit butterigen Noten.
Geschmack: Der Reichhaltige und Exotische, fruchtige und nussige Aromen.
Abgang: Anhaltend, süße Mandeln und Spuren von Gewürzen.
Hausstil von The Glenlivet: Ein blumiger und fruchtiger Malt, pfirsichartig, mehr als Aperitif.
Produktinformationen "Glenlivet 15 Jahre French Oak Gift-Pack 40% 0,7L"
Der unverkennbare Charakter des Glenlivet 15 Jahre French Oak ist das Ergebnis einer selektiven Reifung. Ein Teil der Spirituose reift für einen limitierten Zeitraum in ausgewählten französischen Eichenfässern, um das Endprodukt geschmacklich nicht zu überzeichnen. The Glenlivet Distillery war eine der ersten Destillerien, die französische Eiche (Quercus Robur) im Produktionsprozess einsetzten; eine Technik die seither von vielen anderen Destillerien nachgeahmt wurde. Die Limousin-Eiche, die in der französischen Dordogne-Region geschlagen wird, wird oft in Frankreich zur Reifung von guten Weinen und Cognac verwendet. Im Fall von The Glenlivet, ermöglicht es der Spirituose durch die geringe Dichte tief in das Holz einzudringen. Dadurch bekommt der Whisky eine ausgeprägte Würzigkeit. Die französische Eiche erhöht ausserdem die Intensität des Whisky. Das Resultat ist ein reichhaltiges und cremiges Finish.
Geschenkset mit 2 Nosinggläsern.
Auszeichnungen / Awards:
International Spirits Challenge
2012: Silver
2011: Silver
International Wine and Spirits Competition
2012: Silver (Outstanding)
2011: Silver
San Francisco World Spirits Competition
2012: Gold
2011: Gold
The Scotch Whisky Masters
2012: Master
Dominic Roskrow
This is an outstanding expression of The Glenlivet - The World's Best Whiskies 2010
| | |
| --- | --- |
| Abfüllung: | Herstellerabfüllung(en) |
| Alkoholgehalt: | 40 % |
| Alter: | 15 Jahre |
| Flaschengröße(n): | 0,7 Liter |
| Gattung: | Single Malt Whisky |
| Land / Herkunft: | Schottland |
| Marke / Hersteller: | Glenlivet |
| Region(en): | Speyside |
| Spirituosenart: | Whisky |
Hersteller Informationen
Lebensmittelunternehmer: Glenlivet Distillery
Anschrift: Ballindalloch Banffshire AB37 9DB/GB
Herkunft: Schottland
Produktdarstellungen und Bilder können abweichen je nach Batch, Abfüllungen und Herstellungsjahr